Fire Cracker Chicken Breasts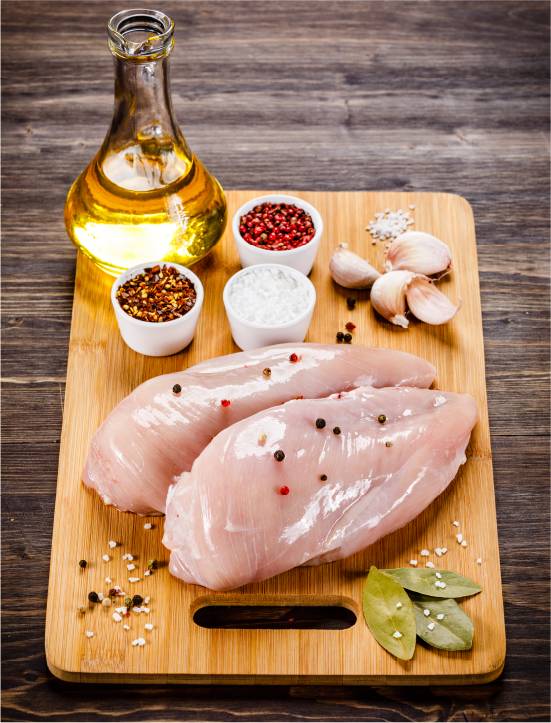 serves 4
INGREDIENTS:
Meat

3 chicken breast

Condiments

½ cup Franks Red Hot Sauce

Baking & Spices

1 cup dark brown sugar

¼ tsp salt

1 tbsp garlic

½ tsp red pepper flakes

salt and pepper to taste

Oils & Vinegars

2 tbsp apple cider vinegar

1 tbsp olive oil
DIRECTIONS:
Preheat the oven to 400 degrees. Line a sheet pan with parchment paper or foil.
In a medium sauce pan combine the hot sauce, sugar, vinegar, salt, garlic and red pepper flakes. Bring this mixture to a boil over medium high heat. Than reduce it to low and let it simmer for 10 minutes. Remove the sauce from the heat and let it cool.
Slice your chicken breast in half so you are left with six thin chicken breast. Place your oil in a saute pan and heat it up over medium heat. Season the chicken with salt and pepper than place it into the pan. Cook for two minutes on each side just to sear the outside.
Place your chicken on your sheet pan and bake it for 5 minutes. Remove them from the oven and pour two tablespoons of sauce onto each breast. You will be saving the rest of the sauce for later. Place the chicken back into the oven for 12 minutes or until it reaches 160 degrees.
Serve your chicken with the remainder of the sauce.
Cheesy Asparagus Stuffed Chicken Breasts
Tender chicken loaded with mozzarella and asparagus and stuffed full of flavour that is out of this world!