From farm to plate, we don't cut corners when it comes to your food.
At Kloster's Butcher Shop, we care about what we serve you.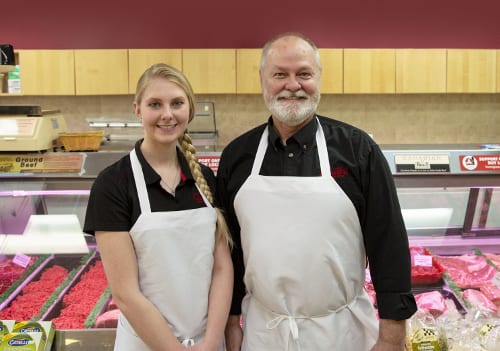 At Kloster's, we believe you should feel good about what you eat. We only work with small local farms that share our passion for all-natural meats free from antibiotics and hormones. This has been our recipe for success for nearly three decades.
Michael Kloster founded Kloster's Butcher Shop in 1992. Michael first opened Kloster's in Newmarket with the goal of connecting home cooks and foodies to high quality meats they could trust. Knowing the complexities of the modern meat industry, Michael saw consumers' growing need and desire to understand where their food comes from and how it is produced. This inspired him to take care to only partner with local farms with transparent business practices and the highest quality product.
Today, Kloster's Butcher Shop serves York Region and beyond from its Newmarket and Aurora locations…
We proudly carry AAA and AA all-natural aged beef, grain-fed, air-chilled chicken, seasonal turkeys, pork, lamb, duck, bison, and more.
Discover new ways to prepare your favourite proteins. Our recipe collection is full of tried, tested, and true Kloster Family favourites. We know your loved ones will enjoy these dishes, too!
Frequently Asked Questions
How much meat would you recommend per person?
klostersbutchershop
2019-04-30T11:00:26+00:00 Bonless Meat
Half pound per person BONE-IN MEAT
3 quarters of a pound to a pound per person
(always a good idea to add in a pound for shrinkage) DELI MEATS
Quarter pound per person.
"This is one of the best butcher shops I've ever had the pleasure of buying from. Top quality and friendly service."
"Excellent service and an excellent selection of meats – well-sourced from local farmers. The staff are extremely knowledgeable on everything from cooking all types of game meats to traditional fare. Mike and his team love their work and remain uncompromised in their passion."
"A first rate shop. Best we have had in Newmarket for the past 40 years. Their meat is always fresh and their home-baked pies and prepared foods are exceptional."