Portobello Sausage Stuffed Mushrooms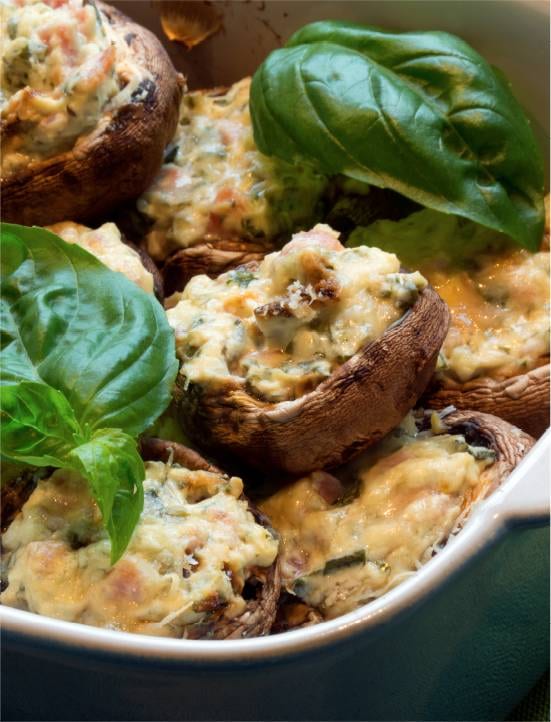 Serves 8
INGREDIENTS:
Meat

1 lb Italian sausage, hot ground

Oils & Vinegars

2 tbsp Olive oil

Other

8 Portobello mushrooms (stems and gills removed

Dairy

16 oz Mozzarella cheese, grated

Produce

1 Basil, fresh

4 Garlic cloves

1 Green bell pepper

1 Onion

1 tsp Oregano

1 Red bell pepper

28 oz Tomatoes

Baking & Spices

1 Pepper

1 Salt
DIRECTIONS:
Preheat oven to 375 degrees F.
Clean mushroom caps: Remove stems from mushrooms and use a spoon to scrape out the gills. Arrange mushroom caps on a baking sheet, brush with olive oil and season with salt and pepper. Set aside.
In a saute pan over medium heat, brown the sausage. Remove from pan. Add 1 tablespoon olive oil. When hot, add the onions and bell peppers, season with salt and pepper. Saute until they have released their water and water has evaporated, and they are soft and starting to turn golden.
Add the garlic and oregano, saute for 30 seconds. Add the crushed tomatoes. Add the sausage back into the pan, stir. Simmer for at least 20 minutes to let flavors combine.
Spoon sausage mixture into the mushrooms, top with shredded cheese.
Bake for 15 minutes, or until cheese is melted and mushrooms are tender. Finish under the broiler for 1-2 minutes to brown cheese, if desired.
Cheesy Sausage Pasta
Cheesy Sausage Pasta full of creamy sauce, pasta, and sliced sausages. An easy and flavorful weeknight meal that everyone can enjoy.